Articles
---
Home renovations take know-how and inspiration. Here you'll find information on the best materials and great advice from the leaders in the field. It's everything you need for a successful remodel.
5 Dual-Functioning Bedroom Ideas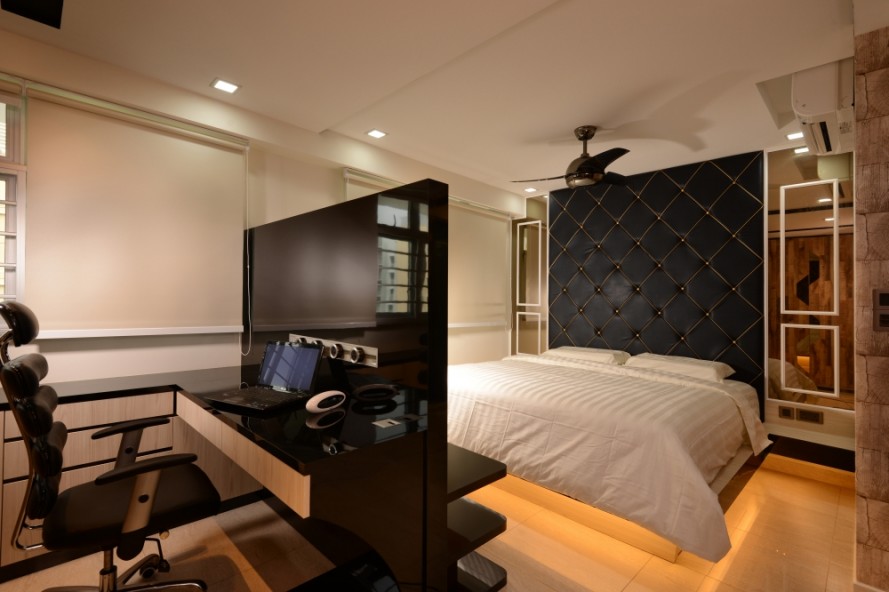 Date Posted: August, 30 2016, Posted By: Deya Banerjee
Categories:
Ideas & Inspiration
---
As prices for everything rise with our rising standard of living, items that serve more than one purpose become highly sought after. Similarly multi functional rooms are a great way to make more of the space that you already have.
1.
The Work-Rest Divider

It can be very tempting to cosy up and fall asleep when working or studying on your bed. You definitely wouldn't want to be in such a situation if you've got a deadline to meet the next day. Divide your workspace and rest area by placing a simple long table next to your bed. Put a chair and some drawers on the other side of the bed and you've got yourself a nice workspace. This way the constant view of the bed will motivate you to finish your work faster.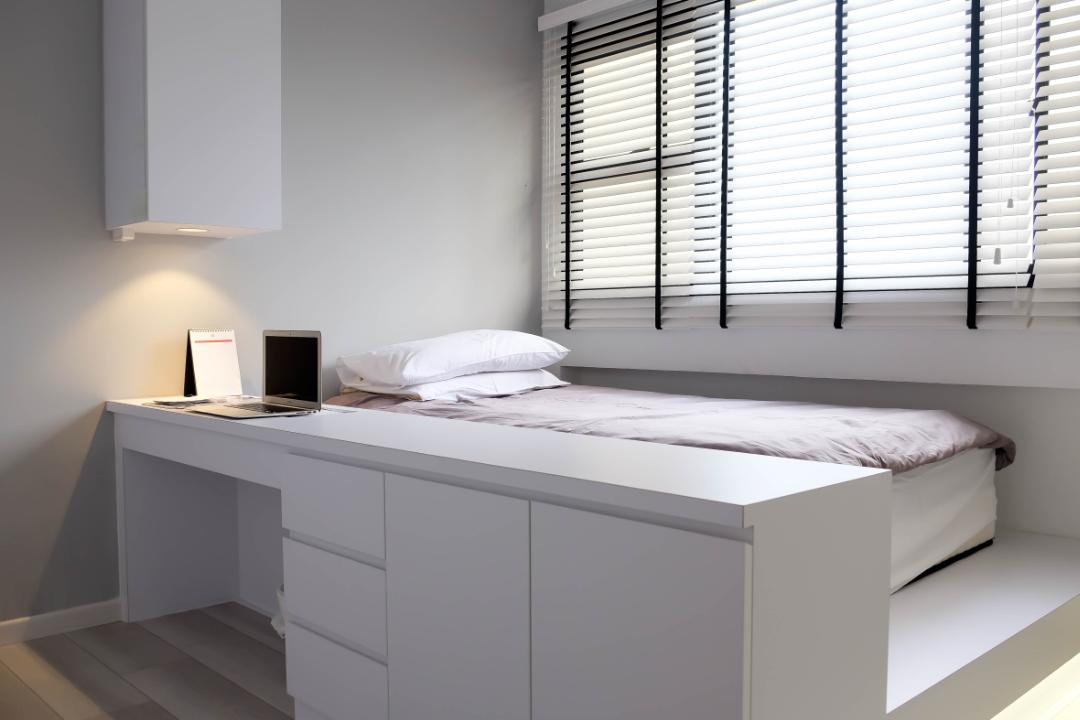 Neptune Court
S$ 85,000
(Condominium)
2.
The Right Balance Between Work And Play

Strike that perfect balance between work, play and chill (all in one room) with a design like this. The elevated study area visually separates the room into a study room and bedroom. The cushioned window seat is a great place to sit and enjoy a book or just to chill and watch the world pass by. The TV in front of the bed has been installed in the wall allowing for more space that otherwise a TV cabinet would've taken up. The positioning of the TV is great as anyone can switch to their favourite show and enjoy right from the comfort of their bed.

Bedok North
S$ 32,000
(Apartment)
3.
The Small Space Saviour

Don't have enough space in your house for a separate study room? No problem, just merge your study room with your bedroom. No space in your bedroom for a workspace? No problem, just adopt this amazing space saving technique by using a movable table on top of your bed. When not needed, you can stow it away at the foot of your bed. This design helps save space that a workspace would otherwise take up. It also cuts costs since now you won't need a work chair or a bedside table. This table makes it a lot easier to browse through Netflix without our laptops burning a hole through our laps. So many benefits wrapped up in one simple design!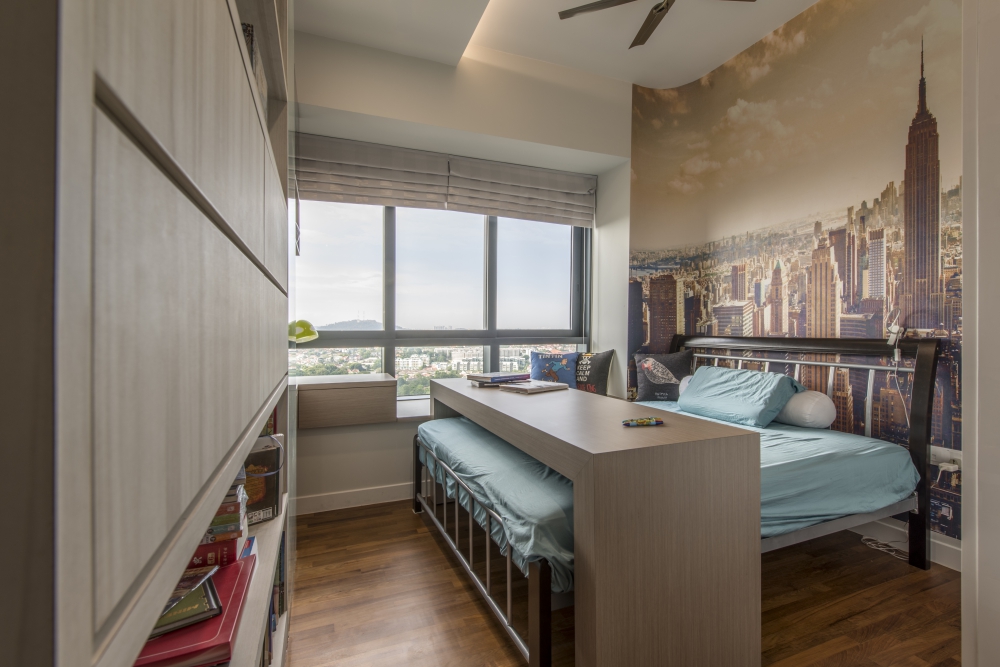 11 Leedon Heights
S$ 28,000
(Condominium)
4.
The Headboard Solution

Beds tend to look incomplete without a headboard. Things tend to fall out of a table without something to prevent them from doing so at the back. Solve both those problems with one simple solution; positioning a table at the head of the bed provides the table with a back support as well as gives the bed a headboard. This feature works amazingly well in small sized bedrooms where every square centimeter matters.

250 Pasir Ris St 21
S$ 70,000
(HDB)
5.
The Half N Half

This effective design allows one piece of furniture to provide multiple functions. The black partition separates the workspace from the bedroom. However it also allows for a TV to be fixed to it, thus allowing more late night binge watching of shows from your bed.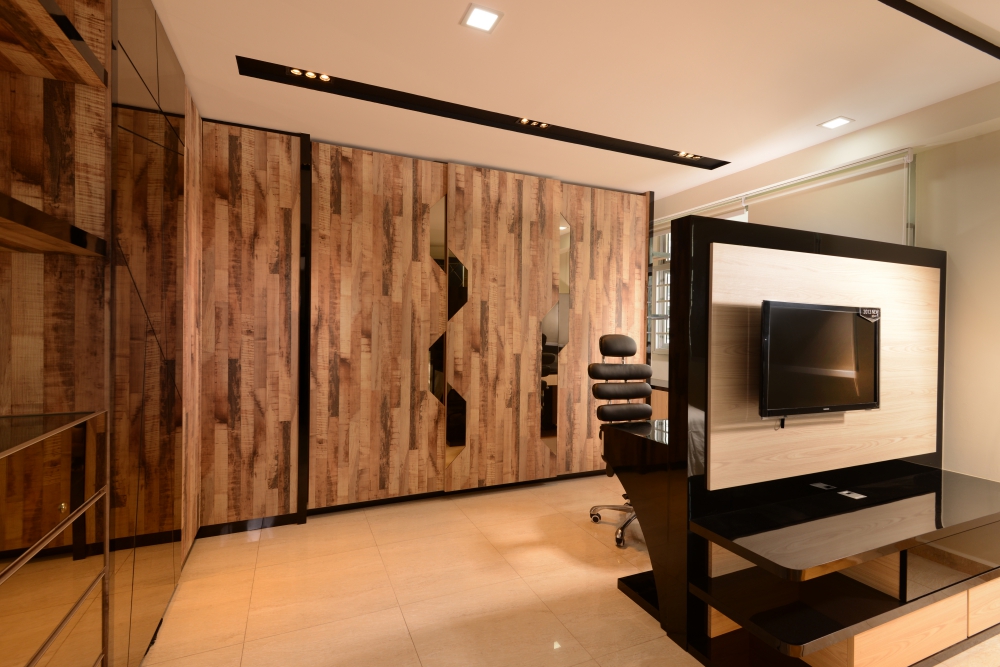 485 Segar Rd
S$ 50,000
(HDB)
Whether your bedroom is small or big, multi functionality is always a great feature that everyone looks out for. Give your room that something extra with these ideas.

Renovating your home is a daunting task at hand and finding the right vendor may be rather challenging. So, let us help you by telling us your requirements and wait for quotations from up to 4 trustworthy vendors!